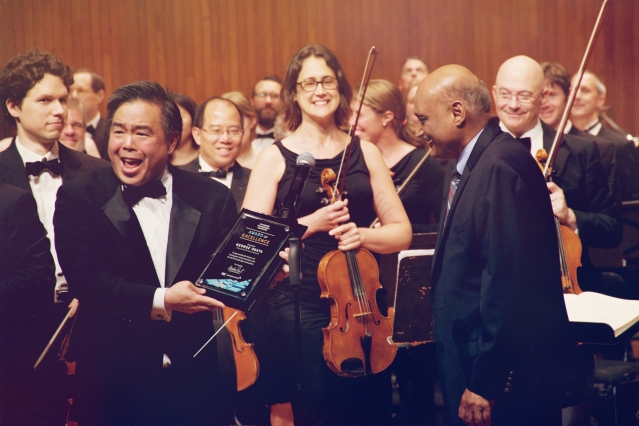 About MITSPO
Now celebrating its 23nd season, the MIT Summer Philharmonic Orchestra (MITSPO) has been the preeminent summer community orchestra for over two decades. Made up of top musicians of the MIT community and the general Greater Boston area, MITSPO hosts a single concert event every summer.
In 2009, MITSPO was invited to participate in the Landmarks Festival at the Shell series and make its debut at the Hatch Shell at the Boston Esplanade.

MITSPO is proud to be sponsored by MIT Professional Education.
MITSPO is conducted by George Ogata who founded the orchestra in 1995. From 1996 to 2013, Mr. Ogata was on the faculty at the Longy School of Music of Bard College as Conductor of the Longy Youth Chamber Orchestra, where he led the senior youth orchestra program for seventeen years. He took the youth orchestra on tour to Austria, Canada, Czech Republic, Finland, France, and Spain. For 2 years, Mr. Ogata joined the faculty of the Powers Music School as the Conductor of the Senior Orchestra of the Massachusetts Youth Symphony Project (MYSP), which he founded in 2013.

In 2014, George Ogata became the 7th Music Director and Conductor of the Reading Symphony Orchestra (RSO) based in Reading, Massachusetts.
Masterworks performed by MITSPO in the past include:
Beethoven, Concerto for Violin and Orchestra (Susanna Ogata, Violin)

Beethoven, Symphony No. 3, "Eroica"

Beethoven, Symphony No. 6, "Pastoral"

Berlioz, Symphonie fantastique

Borodin, Symphony No. 2

Brahms, Symphony No. 1

Brahms, Symphony No. 2

Brahms, Symphony No. 4

Bruckner, Symphony No. 6

Dvorak, Symphony No. 7

Dvorak, Symphony No. 8

Dvorak, Symphony No. 9, "From the New World"

Dvorak, Wood Dove

Gandolfi, Impressions from "The Garden of Cosmic Speculation"

Liszt, A Faust Symphony

Liszt, Mazeppa

Mahler, Symphony No. 1

Mahler, Symphony No. 5

Mahler, Symphony No. 9

Saint-Saens, Symphony No. 3, "Organ"

Schubert, Symphony No. 7 (8), "Unfinished"

Schumann, Symphony No. 4

Sibelius, Finlandia

Sibelius, Symphony No. 1

Sibelius, Symphony No. 2

Smetana, The Moldau

Strauss, Also sprach Zarathustra

Stravinsky, The Rite of Spring

Rachmaninov, Isle of the Dead

Rachmaninov, Symphony No. 2

Rimsky-Korsakov, Capriccio Espagnol

Rimsky-Korsakov, Scheherazade

Tchaikovsky, Capriccio Italien

Tchaikovsky, Francesca da Rimini

Tchaikovsky, Manfred Symphony

Tchaikovsky, Romeo and Juliet Overture-Fantasy

Tchaikovsky, Symphony No. 4

Tchaikovsky, Symphony No. 5